Inauguration: Friday December 1, 2023 , 6-8 pm
Duration: December 2, 2023- February 3, 2024
Inauguration: Friday December 1, 2023 , 6-8 pm
Duration: December 2, 2023- February 3, 2024
Inauguration: Friday, October 27, 2023, 7-9 pm
Duration: October 28 - December 9, 2023
VIN VIN in Naples
Vicoletto II Santa Maria ad Agnone 3
80139 Naples IT
Inauguration: Friday, October 27, 2023, 7-9 pm
Duration: October 28 - December 9, 2023
VIN VIN in Naples
Vicoletto II Santa Maria ad Agnone 3
80139 Naples IT
Artists:
Giulia Crispiani
Pauline Curnier Jardin
Maria Iorio and Raphaël Cuomo
Harun Farocki
Beatrice Gibson
Delphine Seyrig
Curated by: Lucrezia Calabrò Visconti
Inauguration: Friday 8.9. | 12pm - 7pm -
Saturday 9.9. | 12pm - 6pm
Duration: 12.09. - 14.10.2022 | Tuesday - Friday 12pm - 6pm -
Saturday 12pm - 4pm
Artists:
Giulia Crispiani
Pauline Curnier Jardin
Maria Iorio and Raphaël Cuomo
Harun Farocki
Beatrice Gibson
Delphine Seyrig
Curated by: Lucrezia Calabrò Visconti
Inauguration: Friday 8.9. | 12pm - 7pm -
Saturday 9.9. | 12pm - 6pm
Duration: 12.09. - 14.10.2022 | Tuesday - Friday 12pm - 6pm -
Saturday 12pm - 4pm
Inauguration: Saturday June 3, 6 - 8 pm
Duration: June 7 - July 22, 2023
Inauguration: Saturday June 3, 6 - 8 pm
Duration: June 7 - July 22, 2023
Inauguration: Tuesday, May 6, 2023, 6-8 pm
Duration: May 7 - June 10, 2023
VIN VIN in Naples
Vicoletto II Santa Maria ad Agnone 3
80139 Naples IT
Inauguration: Tuesday, May 6, 2023, 6-8 pm
Duration: May 7 - June 10, 2023
VIN VIN in Naples
Vicoletto II Santa Maria ad Agnone 3
80139 Naples IT
Artists: Choon Mi Kim, Emma Stone – Johnson, Benedikte Klüver
In collaboration with Daniel Lippitsch
Duration: April 16 – May 20, 2023
Artists: Choon Mi Kim, Emma Stone – Johnson, Benedikte Klüver
In collaboration with Daniel Lippitsch
Duration: April 16 – May 20, 2023
Inauguration: Saturday, March 11, 2023, 7-9 pm
Duration: March 15 - April 22, 2023
VIN VIN in Naples
Vicoletto II Santa Maria ad Agnone 3
80139 Naples IT
Inauguration: Saturday, March 11, 2023, 7-9 pm
Duration: March 15 - April 22, 2023
VIN VIN in Naples
Vicoletto II Santa Maria ad Agnone 3
80139 Naples IT
Artists: Beatrice Alici, Paulina Aumayr, Sarah Fripon, Alex Macedo, Esther Martens, India Nielsen, Georgia May Travers Cook, King Rohmberg
Curated by: Sayori Radda
Inauguration: Friday, January 13, 2023, 7-9
January 14 - February 11, 2023
Artists: Beatrice Alici, Paulina Aumayr, Sarah Fripon, Alex Macedo, Esther Martens, India Nielsen, Georgia May Travers Cook, King Rohmberg
Curated by: Sayori Radda
Inauguration: Friday, January 13, 2023, 7-9
January 14 - February 11, 2023
Inauguration: Saturday, October 8, 2022
12 October - 12 November 2022
VIN VIN in Naples
Vicoletto II Santa Maria ad Agnone 3
80139 Naples IT
Inauguration: Saturday, October 8, 2022
12 October - 12 November 2022
VIN VIN in Naples
Vicoletto II Santa Maria ad Agnone 3
80139 Naples IT
Artists: Joel Andrianomearisoa, Kapwani Kiwanga, Marin Majic, Maja Ruznic
Curated by: Kami Gahiga
Inauguration: Friday, 9 – Saturday, 10 September 2022
11 September – 8 October 2022
Artists: Joel Andrianomearisoa, Kapwani Kiwanga, Marin Majic, Maja Ruznic
Curated by: Kami Gahiga
Inauguration: Friday, 9 – Saturday, 10 September 2022
11 September – 8 October 2022
Guendalina Cerruti,
Cecilia De Nisco,
Viola Leddi,
Edoardo Manzoni
Text: Caterina Molteni
Inauguration: 11 March 2022, 12 pm - 7 pm
12 March - 16 April
Guendalina Cerruti,
Cecilia De Nisco,
Viola Leddi,
Edoardo Manzoni
Text: Caterina Molteni
Inauguration: 11 March 2022, 12 pm - 7 pm
12 March - 16 April
La scimmia nel bicchiere
Text: Piero Golia
Inauguration: 26 February 2022, 12 pm - 8 pm
1 March - 16 April 2022
La scimmia nel bicchiere
Text: Piero Golia
Inauguration: 26 February 2022, 12 pm - 8 pm
1 March - 16 April 2022
Nothing new under the sun
Inauguration: 13 October, 7-10 pm
14 October 2021 - 19 November 2021
Nothing new under the sun
Inauguration: 13 October, 7-10 pm
14 October 2021 - 19 November 2021
Isabella Costabile
Frieda Toranzo Jaeger
Shaun Motsi
Zac Langdon-Pole
J. Parker Valentine
Curated by Francesco Tenaglia
04 september - 02 october 2021

Isabella Costabile
Frieda Toranzo Jaeger
Shaun Motsi
Zac Langdon-Pole
J. Parker Valentine
Curated by Francesco Tenaglia
04 september - 02 october 2021

Cow Mash
Victoria Nunley
Natalie Terenzini
Zandile Tshabalala
Invitation and Text by Sveva D'Antonio
3 June – 24 July 2021
Cow Mash
Victoria Nunley
Natalie Terenzini
Zandile Tshabalala
Invitation and Text by Sveva D'Antonio
3 June – 24 July 2021
Organized in collaboration with Alex Bacon
23 October 2020 – 12 December 2020
Organized in collaboration with Alex Bacon
23 October 2020 – 12 December 2020
The gallery festival with international curators in Vienna
Crumple curated by Emily Watlington
Artists: Mária Bartuszová, Lin May Saeed
Trevor Shimizu, Erika Verzutti
Elaine Cameron-Weir
8th September – 3rd October 2020
The gallery festival with international curators in Vienna
Crumple curated by Emily Watlington
Artists: Mária Bartuszová, Lin May Saeed
Trevor Shimizu, Erika Verzutti
Elaine Cameron-Weir
8th September – 3rd October 2020
The gallery festival with international curators in Vienna
Transmissions curated by Alex Bacon
Artists: Nina Canell, K.R.M. Mooney, Nathlie Provosty, Jesse Stecklow, Lewis Stein
13 September – 12 October 2019
The gallery festival with international curators in Vienna
Transmissions curated by Alex Bacon
Artists: Nina Canell, K.R.M. Mooney, Nathlie Provosty, Jesse Stecklow, Lewis Stein
13 September – 12 October 2019
CONTRAPPUNTO
CONTRAPPUNTO is the project space of VIN VIN. The project space tendentially will host one work at a time. The work is unveiled after each inauguration. The programming of CONTRAPPUNTO follows its own development, independently from the programming of the main gallery space. CONTRAPPUNTO, realized by Martin Hotter, is structurally incorporated in VIN VIN's main gallery space.
News
25.09.2023
Jamiu Agboke's work has been reviewed by Lorenz Ecker on Kunstforum International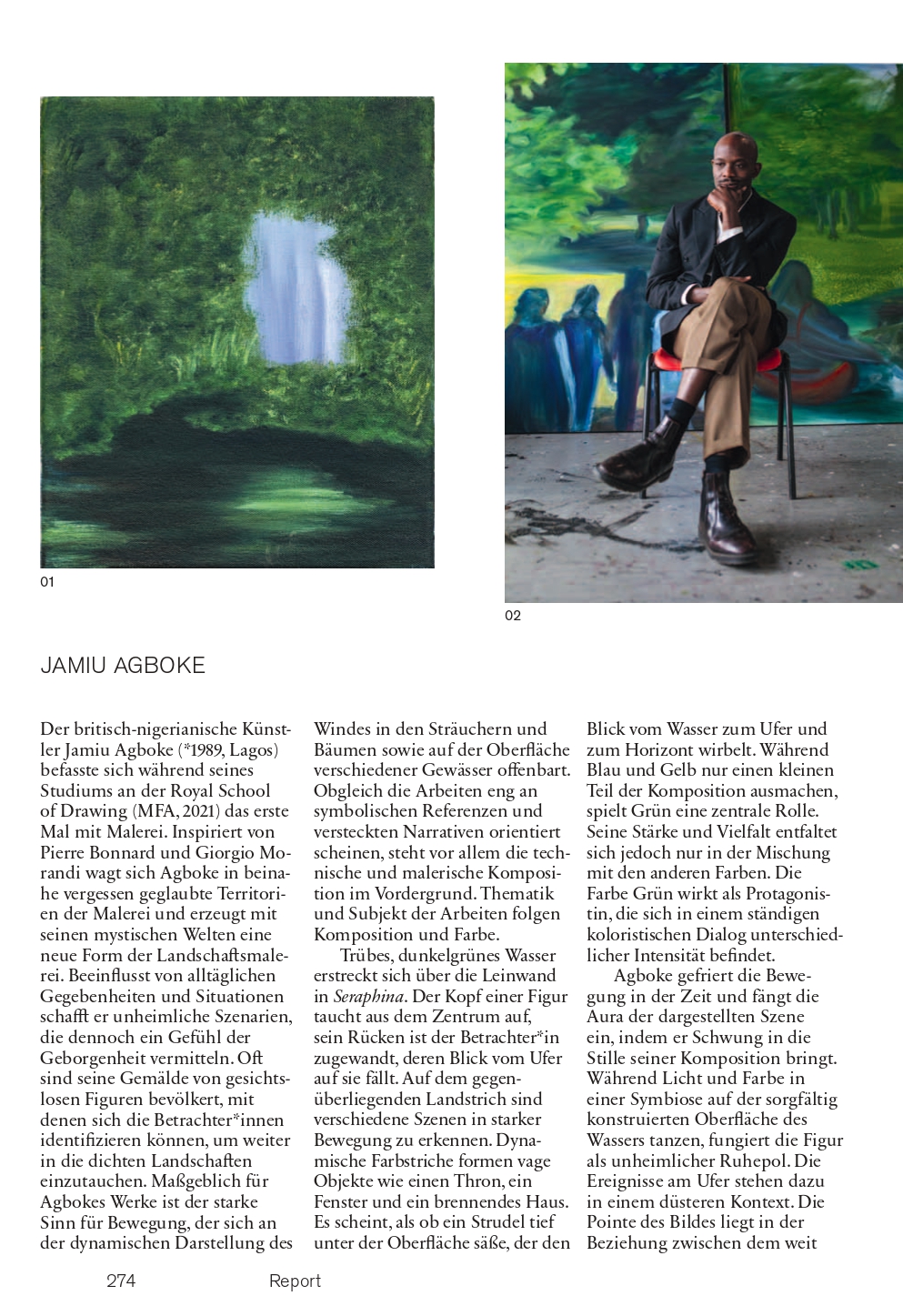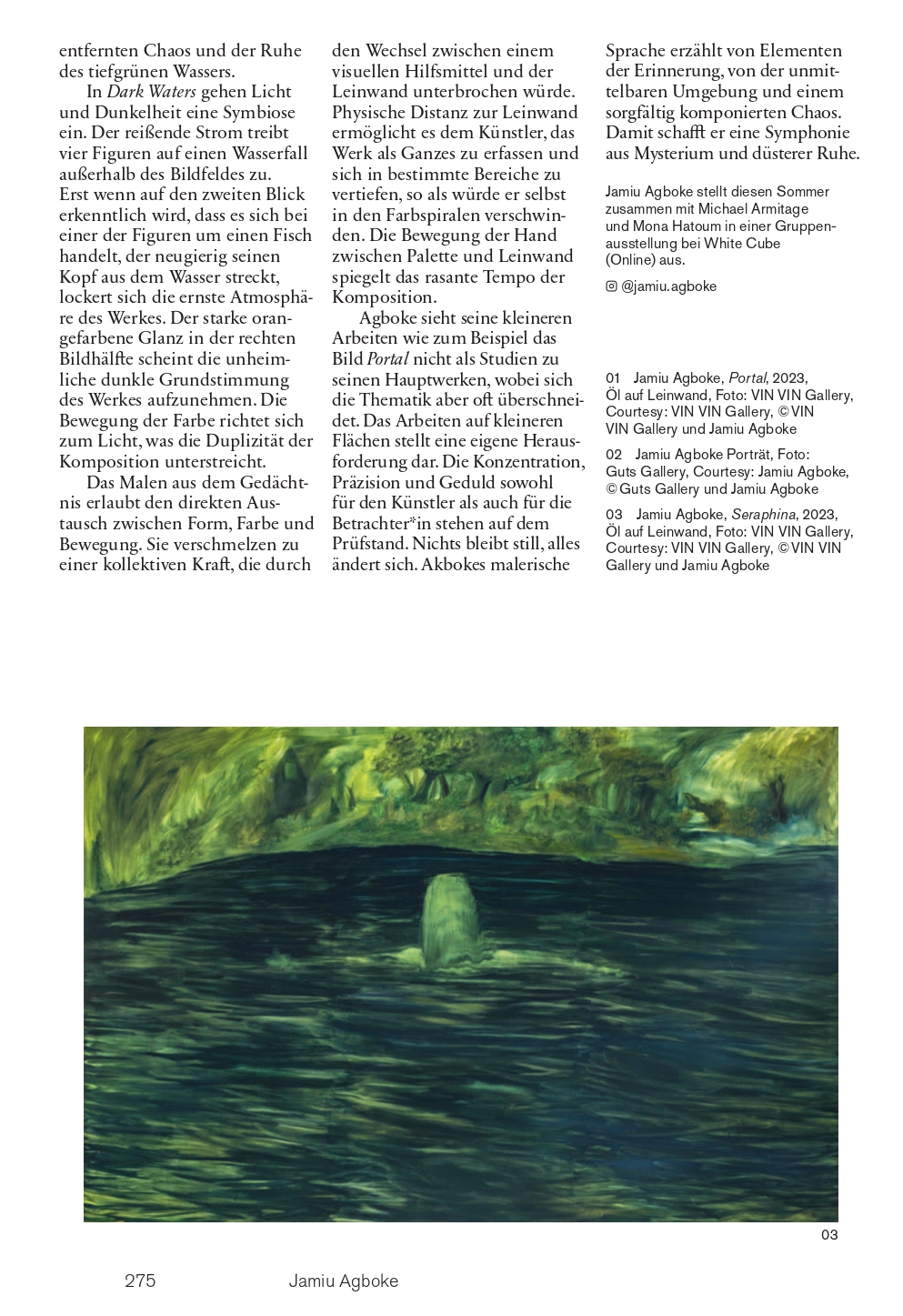 About
VIN VIN is a gallery for contemporary art focused on emerging international practices.
The gallery was founded by Naples-born former orchestral conductor and violinist Vincenzo Della Corte in 2016 as a vehicle to pursue his passion for contemporary art. The gallery is committed to long term collaborations with a core group of artists in addition to ongoing projects that look for new formats to respond to the questions of our time, and has occupied a number of spaces before settling in its permanent location on Hintzerstrasse.